Group activities
Get inspired
Lanaudière's natural beauty, wide-open spaces and 10,000 lakes and rivers offer a wide choice of great settings for your group activities.
Choose Lanaudière for your group activities
Numerous must-see attractions can be visited as a group—on the water, in the mountains or deep in the forest. It's an ideal opportunity to mix business with the joy of spending a day in nature.
Take a break in true Lanaudière fashion!
Lanaudière abounds in culture, nature, history and wide-open spaces. For a day in the outdoors, our vast green forests, crystal-clear lakes and rivers winding through mountains and valleys are the perfect playground. In winter, your teams can enjoy skiing, skating, sliding and hiking. Good times and rosy cheeks await! In summer, stimulate all your senses with water sports, multipurpose trails, scenic lookouts and magnificent golf courses. Tackling challenges as a group will help forge ties and create lasting memories. Whether for school field trips, business gatherings, or activities with family or friends, everyone will find a reason to come back . . . or to stay a little longer!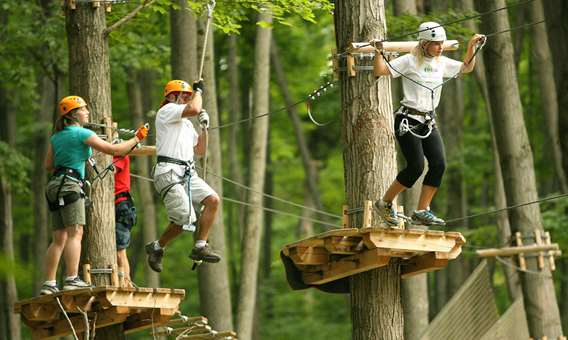 A host of activities
Lanaudière is home to a wide range of group activities! Rediscover the joys of spending time in the outdoors in summer on our golf courses, lakes and rivers, multipurpose trails and in the treetops; in winter, enjoy skiing, skating, snowshoeing and dogsledding. These are the kinds of shared experiences than can bond you as a team. And the simple pleasure of taking in fresh air and nature is really good for the soul! Throughout Lanaudière, friendly folks are ready to welcome you.
Culture and history play an important role in the region too. The many different cultural establishments will interest school groups, business teams, associations and families alike. For centuries, our ancestral towns and villages have maintained historical treasures that visitors will find fascinating today. Come discover our region's rich history and culture!