Team building
Get inspired
On a lake, in the heart of the forest or on a mountaintop, your coworkers will create lasting bonds with each other in Lanaudière.
Bring your team together
Enjoy an out-of-the-ordinary experience, find inspiration surrounded by beautiful scenery, share a meal prepared as a group and share your living space in the heart of nature. Team-building activities in Lanaudière take teams out of the office to bring them closer together. Memorable times guaranteed!
Team-building activities
Pushing one's self and working as a team reinforces the bonds that bring colleagues together. Combine this with the revitalizing benefits of a lush natural setting and the results are tenfold. In Lanaudière's vast natural playground, team-building activities promote communication, a culture of helping and a sense of belonging. Participating in a team-building activity in Lanaudière means setting out on an adventure with your team, tackling challenges in the heart of a natural environment that is sometimes wild but always stimulating, and pushing your boundaries as you get to know each other better. Here, it's all about escaping the routine and plunging into something wonderful. Far from the daily concerns of work, colleagues can enjoy zipping through the snow-covered forest on a sled drawn by a friendly dog team (huskies) with Kinadapt. Together, they can tackle numerous challenges along the circuits in the trees at Arbraska. And at 45 Degrés Nord, on a 5 million sq. ft. site, they can surprise themselves and impress their colleagues in an improvised sports competition. Here in Lanaudière there are countless relaxing recreational activities to re-energize body and mind. In a setting of fresh air and greenery, your team can hike along many kilometres of picturesque trails, cool off beside majestic waterfalls and take in the spectacular views from a lookout point perched atop a mountain. Everyone will rediscover the joy of playing outdoors, on the banks of a natural lake at Centre plein air l'Étincelle. Strong ties can be forged in a friendly atmosphere at Havre Familial de Sainte-Béatrix, where participants can choose from among a wide range of team-building activities, whatever the season.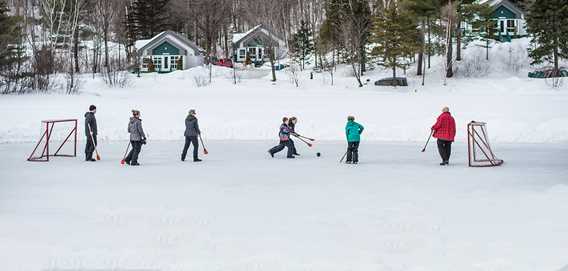 Stay overnight!
Peaceful and comfortable, Lanaudière's accommodations offer a perfect haven to unwind after a full day of activities, circuits and challenges. Leaving your daily concerns behind, you'll get to know the people you work with every day in a whole new light. Coworkers will enjoy playing board games together in the common spaces, unwind during happy hour on a terrace, share a good meal and pursue their discussions around a warm fireplace. Come nightfall, everyone retires to their room for a comfortable night's sleep. What a perfect way to return to work well rested and re-energized! From north to south, Lanaudière's magnificent territory features different types of accommodations to experience team building at its best. Inns, cottages, campgrounds and rustic cabins set in charming villages offer endless country-style sites in the heart of nature.
Our suggestions of places for your team building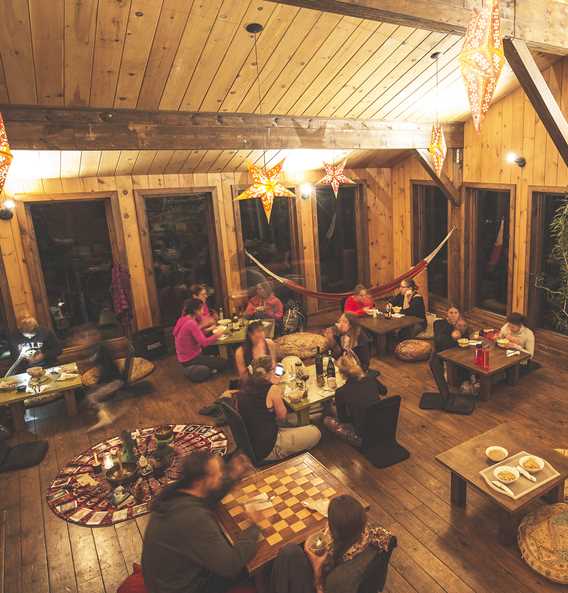 At its log cabin style inn, Auberge du Lac Taureau welcomes business people in beautiful and comfortable rooms. In contrast, some sites focus on a complete change of scene to bring teams closer together. In Notre-Dame-de-la-Merci, Kabania offers original lodging inside cute rustic cabins surrounded by the tranquility of the Lanaudois forest. From natural attractions to magnificent accommodations, Lanaudière offers the perfect environment where your work teams can surpass themselves. Millions of square kilometres of adventure await businesses who are ready to forge bonds and build team spirit!