Corporate retreat
Get inspired
Lanaudière offers a new way of looking at work. Sometimes you just need to take a step back to see things more clearly!
Consider things differently
Lanaudière's beautiful scenery can help your work teams see things in a new way. It's the ideal place to get down to business on a new project in a peaceful natural environment, where creative ideas can emerge.
For a change of scene
As an endless source of inspiration, Lanaudière is the perfect setting for work teams seeking a place to brainstorm new ideas in a calm and quiet environment. Nothing beats being in nature to spark creativity. While Lanaudois landscapes provide a source of inspiration to artists, they also inspire our chefs who create delicious food featuring local products. All that's left to do is let your creativity run free surrounded by the region's outstanding beauty. Solutions can come to you at any time – in the middle of a lake or in the heart of the forest. Empty your mind and let your imagination take over. Far from the four office walls, Lanaudière has a multitude of magnificent campgrounds ideal for bringing people together and conducting original strategic planning sessions. Enjoy some outdoor activities before sitting down for a picnic on the beach or a barbecue in the park. In the evening, have fun sitting around a campfire, roasting marshmallows and telling stories – a great way to get to know coworkers and spark creativity. Located in the heart of nature, Lanaudière outfitters make for a memorable corporate offsite. Our vast hunting and fishing territories are the perfect place to enjoy a change of scene. A wide range of activities await you year-round, from hiking and snowmobiling to going on a canoe excursion. Known for their delicious locally-sourced food, our outfitters provide the perfect setting for a productive brainstorm, over a hearty meal prepared with fresh fish and game.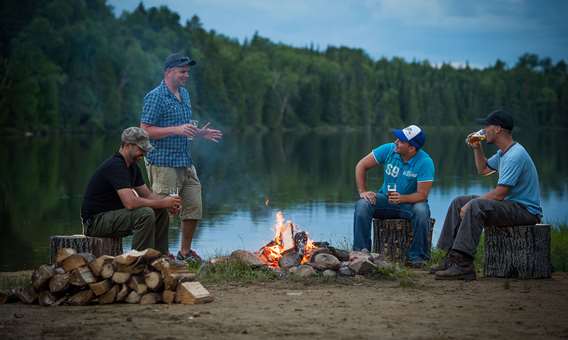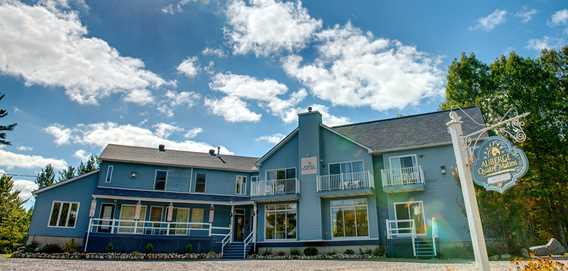 An immersive experience
An offsite takes on its full meaning when spread over a few days. Lanaudière is full of places where work teams can get together in an environment that promotes productivity. Coworkers share living spaces from sunup to sundown, thus fostering teamwork. After all, it's not only during formal business discussions that good ideas arise! When you think of a corporate offsite, you might picture the tranquility of a friendly Lanaudois inn. And rightly so! Here, you can enjoy all the meeting room amenities you need, fill up on fresh air with outdoor activities, chat with colleagues over a meal featuring local products and unwind in the comfort of your room. This ideal scenario awaits you at Auberge Val Saint-Côme, Auberge du Vieux Moulin and Auberge aux Quatre Matins. Just choose your setting, and Lanaudière will take care of the rest. 
Our suggestions of places for your corporate retreat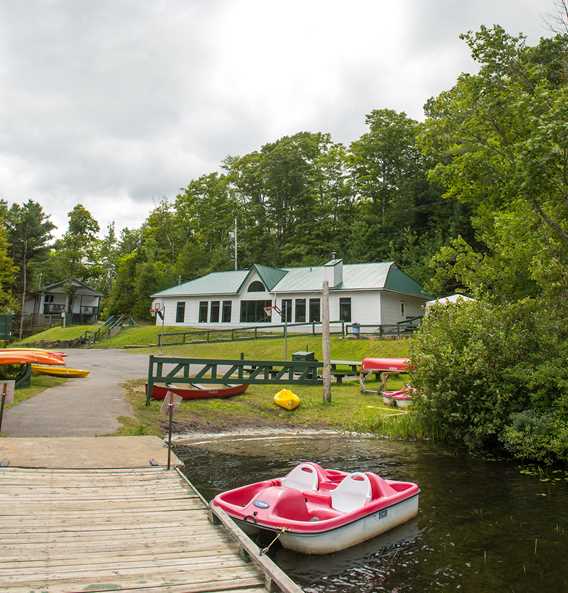 For something different, Lanaudière's vacation centres provide a more immersive experience – the essence of a corporate offsite. Meetings, happy hours, meals and fun activities all take place in a single area. A great way to make the most of each moment among coworkers. Located in Sainte-Béatrix and Saint-Alphonse-Rodriguez, Havre Familial and Centre plein air l'Étincelle welcome groups of all sizes in their spacious cottages, surrounded by lush nature. In Notre-Dame-de-la-Merci, Kabania pushes the experience further with charming cabins perched in the trees.