A beautiful setting, a warm welcome, the tranquility of nature... Why not make your next convention the best ever?
A memorable gathering
Located near major cities, Lanaudière welcomes businesses with its breathtaking scenery and peaceful natural environment. As soon as you arrive, you'll feel the magic. Business relationships become more authentic and corporate events more memorable.
Mixing business with nature
​Lanaudière offers modern, configurable rooms in country-style inns that welcome conventions and corporate gatherings. You'll find all the conveniences you need for a worry-free business meeting and discover that the region has so much more to offer. To experience Lanaudière at its best, sit down to a delicious meal featuring locally-sourced products in one of the numerous restaurants or enjoy the services of a local caterer. Then continue your discussions next to a charming stone fireplace to finish your productive business day on a high note. Comfortable rooms, suites and condos ensure everyone will enjoy a good night's sleep, whether your business trip is short or long. Between two meetings, take a break to make the most of the majestic bodies of water, and the numerous kilometres of hiking trails through mature forests and verdant valleys. Whether you're walking, biking, snowshoeing or cross-country skiing, you'll find that every activity is a good opportunity to fill up on fresh air and energize your mind. Auberge du Lac Taureau, a magnificent log inn nestled in the heart of the forest next to an immense lake, is a gorgeous setting for your corporate events. If you prefer the mountains, the country-style inns La Montagne Coupée and Auberge Val Saint-Côme await you just 60 minutes from Montreal. Their legendary hospitality will make your convention a success, surrounded by breathtaking scenery.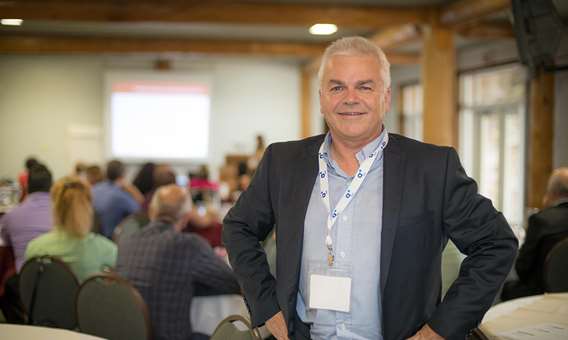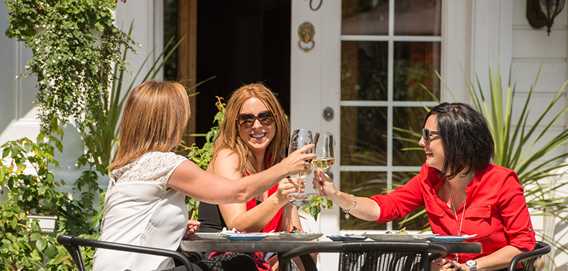 Friendly towns
Lanaudière boasts the best of both worlds – friendly, vibrant towns surrounded by lush nature. A must-see cultural destination, Joliette abounds in attractions and convenient accommodations for business people. Just 30 minutes from Montreal, its bustling city centre has a relaxed professional atmosphere. After a hard day's work, nothing beats enjoying happy hour in a friendly bistro, unwinding with coworkers. The Hotel Château Joliette stands proudly at the entrance to the city. It hosts conventions and conferences from across the province. Guests will be enchanted by the hotel's terrace overlooking the magnificent L'Assomption River.
Our suggestions of places for your convention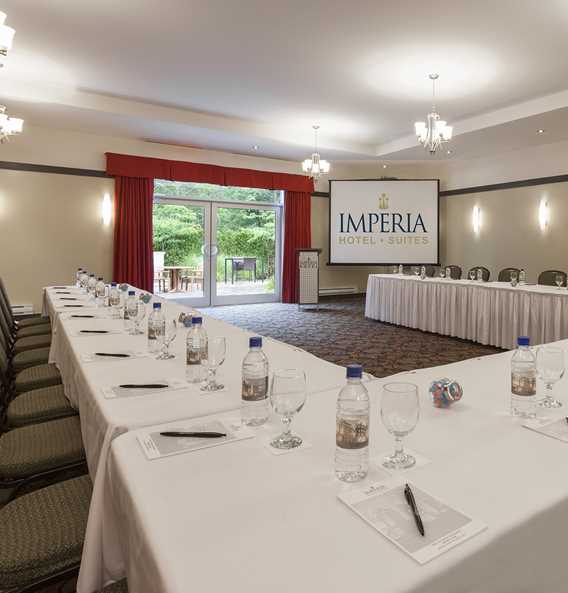 ​With its rich historical heritage and unique architectural style, the city of Terrebonne, close to Montreal, is an ideal destination for business gatherings. Its proximity means you can quickly get down to your business challenges instead of spending too much time travelling. You'll want to come back for its vibrant environment in a peaceful, refined setting. That's precisely what Imperia Hotel & Suites has to offer. The location is popular among business people seeking to hold professional events in a friendly setting. Across its entire territory, Lanaudière transforms simple business gatherings into outstanding experiences with modern facilities in a serene environment. It allows you to forget, if only for a short while, the stress and headaches of traffic and parking. A perfect example is the Complexe JC Perreault, located along Highway 25 at the heart of the charming municipality of Saint-Roch-de-l'Achigan.